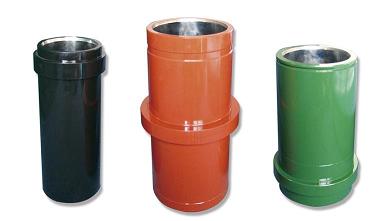 Our company could supply all spec premium liners and ceramic liners used in various brands of mud pumps.
Our premium liners are made of a forged steel outer shell and a high chromium iron inner sleeve. The out shell is centrifugally forged with high quality carbon steel, with Tensile Strength > 610Mpa, Yield Strength > 450 Mpa, Elongation >17%, Hardness HB -180-200; The inner sleeve is centrifugally forged with high chrome iron alloy, with Hardness over HRC62 after heat treatment. Each liner is machined to close tolerances to assure ease of installation and long liner life with the inside diameter of these premium liners honed to a mirror-like finish for smooth even wear during the life of the liner. It could serve more than 800 hours.
Our ceramic liners are made of a forged steel outer shell and a ceramic inner sleeve. We can supply Zirconia(ZrO3) sleeves as well as Alumina(Al2O3) sleeves. The ceramic liners are mainly used for well drilling and geological explorations especially widely used in harsh oil mining environment, offshore well&gas exploration etc. It serves a 5 to 10 times longer life than metal products, and will cut down the mining cost of more than 50%.
ceramic liners of ceramic liners
陶瓷缸套性能指标

材料种类

组分

(wt%)

密度(g/cm3)

硬度

弹性模量(Gpa)

热膨系数(10-6/k)

抗弯强度(Mpa)

钇稳定氧化锆

Y2O3+ZrO2≥99.5%

5.95~6.05

≥87

200

9.6

800~1200

锆铝复合材料

ZrO2≥99.5%

≥3.9

≥87

≥200

≥350