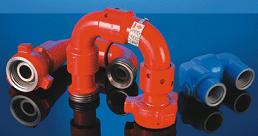 Our swivel joints, with integral ball bearing, are manufactured on the basis of technologies from FMC, USA. Various models of swivel joints and their repair kits are available, suitable for normal or low temperature, or H2S environments, with sizes ranging from 1" to 4" and rated WP ranging from 2000psi~20000psi(14MPa~140MPa).We can supply long and short radius swivel joints. Long radius swivel joints can minimize fluid shock, and has better performance of resistance for scouring and erosion. We also need to use short radius swivel joints for low pressure operation due to limited installation space.
◆ Patterns of swivel joint are made in NC machine tools, with even wall thickness and longer service life. Wall thickness difference of inner and outer arcs can meet FMC standard.
◆ The three-ball-race design can bear heavy load stably, and ensure less vibration with variable load.
◆ All sizes of swivel joints can be interchanged with FMC equivalent products used in cementing and fracturing equipment.
◆ Sealing parts made of synthetic rubber with release hole are fitted with blowout preventing metal ring. When sealing parts leak, pressure will be automatically relieved. Safety performance is enhanced.
◆ Usually good lubrication can ensure that swivel joints work normally without much maintenance.